Yvonne Fossen Named 2022 Prairie Business 40 Under 40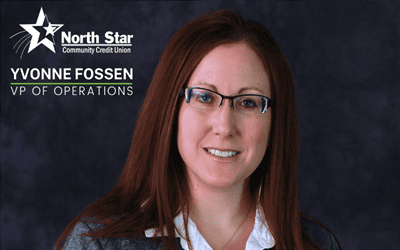 Congratulations to Yvonne Fossen, VP of Operations, for being awarded the 2022 Prairie Business 40 Under 40 Award! This award is given to individuals who put their best foot forward to achieve career aspirations and impact work and community.
Yvonne began her career here in 2005 as an intern, at which time the credit union was less than $80 million in assets and had only four locations. Now, NSCCU is over $411 million in assets with 13 locations.
Yvonne has held various roles from Member Services Representative, IT, Human Resources Manager and Interim Branch Manager, to her current role of VP of Operations. In her current role, she oversees IT, Cards, ACH/Share Drafts, Human Resources, Core Services, and general operations for all locations and 106 employees.
Yvonne holds a Bachelor of Applied Science in Business Administration and Management, and a Human Resources Management Certificate from Dickinson State University. She also has multiple other professional certifications including Professional in Human Resources, Certified Credit Union Executive, Certified Credit Union Financial Counselor, and Credit Union HR Compliance Professional.
Yvonne is active in her church, local credit union chapter, and enjoys spending time with her husband, Mitchell, and their two daughters, Vada and Vyvyan.
« Return to "North Star News"